Engineering Education
---
---
Head: J.M. Case
Assistant Head for Undergraduate Programs: H.M. Matusovich
Assistant Head for Graduate Programs: J.R. Grohs
Professors: J.M. Case, V.K. Lohani, H.M. Matusovich, L.D. McNair, M.C. Paretti, and B.A. Watford
Associate Professors: J.R. Grohs, D.B. Knight, T.W. Knott, W.C. Lee, and K.J. Reid
Assistant Professors: D. Bairaktarova, A.S. Katz, J. S. London, H. Murzi, and N.P. Pitterson
Associate Professor of Practice: W.M. Butler, B.D. Chambers, D.S. Gray, M.B. James, and N.C.T. Van Tyne
Senior Instructor: J.L. Lo
Instructor: J.L. Benning, J.D. Ortega Álvarez, C.A. Twyman
Professor Emeritus: O.H. Griffin
Associate Professor Emeritus: J.B. Connor, R.M. Goff, M.H. Gregg, and T.D.L. Walker
Academic and Career Advisors: C. Ballard, M.L. Cheatham, J.J. Elmore, M. Greene-Havas, M.B. McGlothlin Lester, A.N.W. Miller, D.C. Newcomb, J.N. Newcomer, and A. Noble
Web: www.enge.vt.edu
E-mail: enge@vt.edu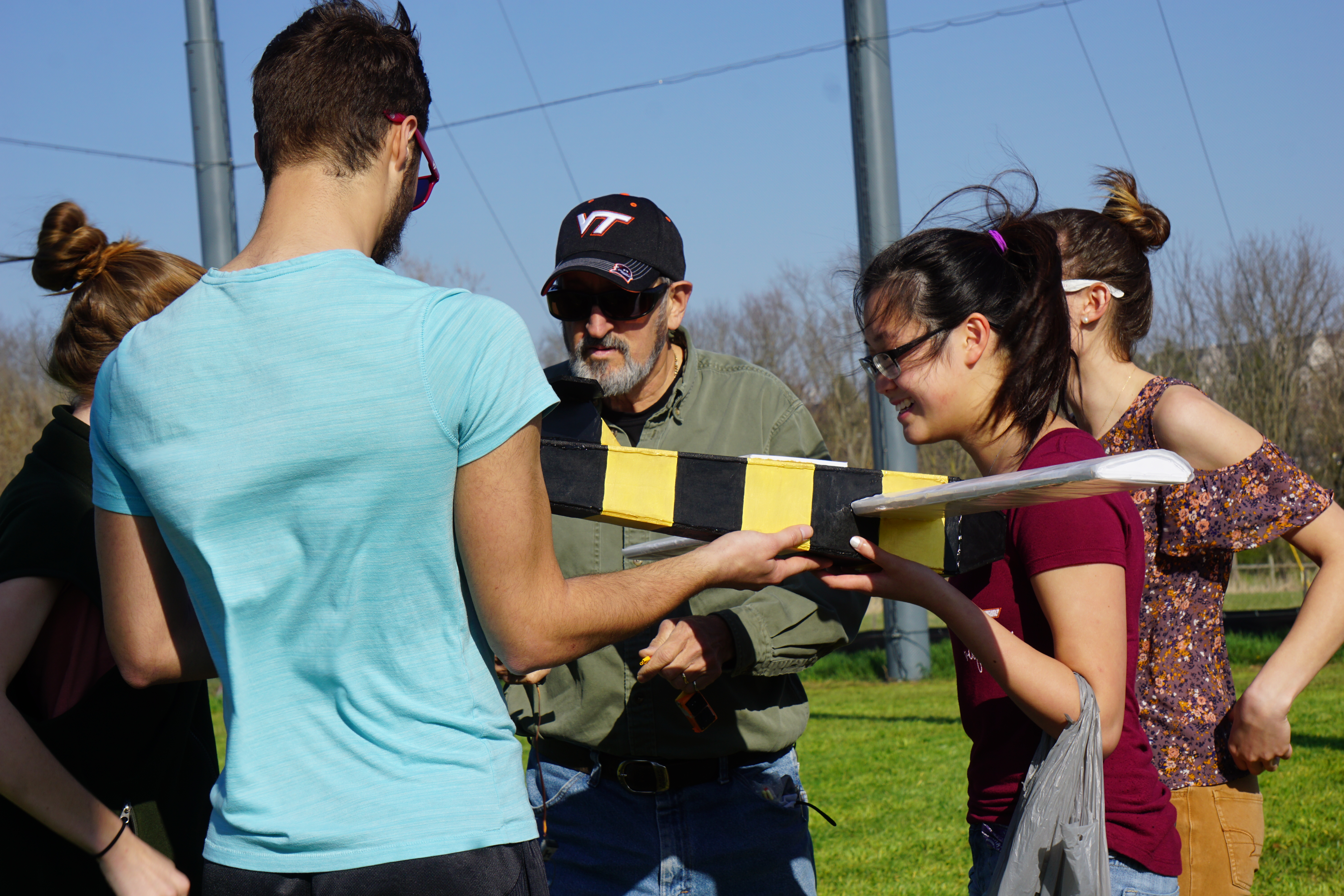 The Department of Engineering Education (ENGE) is home to all first-year and transfer engineering students. The department teaches the interdisciplinary first-year engineering courses, advises General Engineering (GE) students, and offers a graduate certificate and a Ph.D. in engineering education.
At the undergraduate level, the department provides the foundation for students to begin their engineering journey from their first semester until they complete a Bachelor of Science degree in one of the 14 College of Engineering programs. The department helps prepare students for academic success in a degree-granting engineering program and for success as an engineer. At the graduate level, the department prepares scholars to advance knowledge and address significant challenges facing engineering education in careers including engineering faculty, policy makers, corporate training, university assessment and university administration.
Accreditation statements may be found in the listings for individual undergraduate degree programs.
In addition to the Frith First-Year Design Laboratory described below, the department houses research laboratories that focus on generating cutting-edge research in engineering education and translating that research into practice to enhance undergraduate education. Undergraduate students are welcome to apply for research projects in these labs and centers. https://enge.vt.edu/researchfacilties.html
The General Engineering (GE) program of the EngE department serves first-year students in the College of Engineering. Through EngE courses, first-year students participate in problem solving, engineering analysis and design exercises that represent the essence of the engineering profession. The courses emphasize team-based, design-oriented, hands-on experiences to develop students' concepts of engineering and engineering methods, while reinforcing the role of concurrent required courses (e.g. mathematics, English, physics). They also serve as a foundation for subsequent courses in the various engineering curricula. Coverage of engineering ethics instills a sense of the responsibilities of engineers to society. Algorithm development and computer programming develop logical thinking, provide the background for computer use in later courses, and support problem-solving skills. Spatial visualization skills are developed through engineering graphics, a primary engineering tool. Through writing and presentations, students begin to hone their professional communication skills, including audience analysis, visual rhetoric, effective writing styles, issues in collaborative writing, techniques of oral presentation, print and Web-based research, graphics for written and oral presentations, and editing.
All College of Engineering students must own 1) a laptop or 2-in-1 tablet running Windows 10 and meeting current specifications, and 2) stipulated software used to analyze and solve problems in and out of class. Computer requirements for engineering students can be located at www.eng.vt.edu/it/requirement.
Entering students are admitted to General Engineering, the first-year program for all engineering curricula. The program introduces students to foundational concepts and practices in engineering, allows time to adjust to the College, and provides opportunities to investigate the College's individual degree programs and select the branch of engineering or computer science best suited to their skills and interests. At the end of the year - after academic advising, contacts with the various departments, and satisfactory progress - students select a degree program and, if academically eligible, are transferred to the appropriate degree-granting department.
Entry into a degree-granting engineering department requires that students successfully complete all required first-year courses. Students must also earn a minimum grade of C- in ENGE 1215 and 1216 before transferring into a degree-granting engineering department.
Please see the College of Engineering catalog section titled "Required Academic Progress" for details, and visit https://enge.vt.edu/undergraduate/Undergraduate_changing_major.html for application policies and dates.
Typical First Semester
CHEM 1035: General Chemistry
(3)
CHEM 1045: General Chemistry Lab
(1)
ENGE 1215: Foundations of Engineering (C-)
(2)
ENGL 1105: First-Year Writing
(3)
MATH 1225: Calculus of a Single Variable
(4)
Typical Second Semester
ENGE 1216: Foundations of Engineering (C-)
(2)
ENGL 1106: First-Year Writing
(3)
MATH 1226: Calculus of a Single Variable
(4)
PHYS 2305: Foundations of Physics I
(4)
1014: ENGINEERING SUCCESS SEMINAR Introduction to opportunities and resources available to College of Engineering students during their undergraduate career at VT. Practice in information gathering skills critical for engineering students. Practice in oral, written, and visual communication. Preperation of an academic plan. Credit earned for this course may not be used to satisfy degree requirements. Co: 1215. (1H,1C)
1215-1216: FOUNDATIONS OF ENGINEERING A first-year sequence to introduce general engineering students to the profession. 1215 (2 credit) data collection and analysis, engineering problem-solving, mathematical modeling, contemporary software tools, professional practices and expectations (e.g. effective communication, working in teams, ethics), and the diversity of fields and majors within engineering. 1216 (2 credits): data collection and analysis, engineering problem-solving, mathematical modeling, design, contemporary software tools, professional practices and expectations (e.g. communication, teamwork, ethics). All engineering majors require a grade of C- or better in 1215 and 1216 for transfer into the major. Each course can only be attempted twice, including attempts utilizing the W grade option. Design Lab/Studio (3L,2C)
1354: INTRO TO SPATIAL VISUALIZATION Introduction to spatial visualization. Training to improve three-dimensional visualization skills. Does not count towards College of Engineering graduation credit. (1H,1C)
1414: FOUNDATIONS OF ENGINEERING PRACTICE Introduction to engineering profession for transfer General Engineering students including engineering problem solving and design, contemporary software tools, and professional practices and expectations (e.g., communication, teamwork, ethics). All engineering majors require a grade of C- or better in 1414 for change of major into the degree granting major. Duplicates 1215-1216. Design Lab/Studio. (6L,4C)
1644: GLOBAL STEM PRACTICE: LEADERSHIP AND CULTURE Develop global competencies in science, technology, engineering, and math (STEM) contexts and understand how problems and viable solutions vary across contexts and how intercultural communication and global leadership are important in an interconnected global workforce. Integrates semester-long on-campus module with international module following semester exams ("Rising Sophomore Abroad Program"). International module engages students in local culture during visits with STEM businesses and universities. Participation in both modules required. Enrollment by application. (3H,3C)
2094: CREATE!: IDEATION & INNOVATION Apply problem solving framing strategies as part of problem solving design processes. Consider cultural, economic, social, and other perspectives in customer discovery and design processes in order to ensure problem/solution fit. Ideate possible solutions or approaches to address open- ended problems using a variety of methods. Engage in iterative critiques of strategies, solutions and prototypes using methods drawn from industrial design, engineering and the arts. Collaborate in interdisciplinary and diverse project teams. Communicate deliverables in multiple formats and for different audiences. Identify and address impacts of designed services and products through global perspectives, such as patterns of inclusion and exclusion and effects on localized ecosystems. (3H,3C)
2974: INDEPENDENT STUDY Variable credit course.
2984: SPECIAL STUDY I Variable credit course.
2994: UNDERGRADUATE RESEARCH Variable credit course.
3604: INTRODUCTORY INDUSTRY DESIGN EXPERIENCE Workplace and industry culture and practice, including folkways, mores, and ethics, centered on engineering design. Interaction with industry professionals. Workplace competencies including effective teamwork, project management, presenting technical information. Training with software, tools and skills used in design practice in industry. Pre: 1215, 1216. (3H,3C)
3984: SPECIAL STUDY Variable credit course.
4094 (IDS 4094) (MGT 4094): STARTUP: COMMERCIALIZATION OF INNOVATION Work in interdisciplinary teams in an experiential environment replicating modern innovation environments. Engage in real world innovation commercialization opportunities. Individual experiences and projects involving actual inventions, innovations, technologies, intellectual property (e.g. patents) and market opportunities. Integrate design thinking, scientists, entrepreneurs, advisors and other potential collaborators. Create a representation of a plan for a minimum viable product for an innovative product or service based on customer and market feedback. (3H,3C)
4104: APPLIED EXPLORATIONS IN INNOVATION Work in interdisciplinary teams to scope and plan an open-ended design project focused on technology commercialization that addresses a need or problem. Model systems and products computationally and quantitatively to address issues of technical and market feasibility and to predict performance under uncertain conditions. Engage in iterative design process that combines computational and quantitative processes with user-centered design and market analysis. Produce viable design that includes technical specifications, market evaluation, and customer discovery results. Communicate with wide range of audiences. Analyze ethical and intercultural and global impacts of innovation. Pre: 3 credits of foundational quantitative and computational thinking. Pre: STS 2254, ENGE 2094, (MGT 4094 or ENGE 4094 or IDS 4094). (3H,3C)
4974: INDEPENDENT STUDY Variable credit course. X-grade allowed.
4974H: INDEPENDENT STUDY Variable credit course. X-grade allowed.
4984: SPECIAL STUDY Variable credit course. X-grade allowed.
4994: UNDERGRADUATE RESEARCH Variable credit course. X-grade allowed.
4994H: UNDERGRADUATE RESEARCH Variable credit course. X-grade allowed.