College of Engineering
---
Course Descriptions & Programs of Study
---
Dean: Julia Ross
Associate Dean for Academic Affairs: Bevlee A. Watford
Associate Dean for Administration and Chief of Staff: Edward L. Nelson
Associate Dean for International Programs and Information Technology: Glenda R. Scales
Associate Dean for Research and Graduate Studies: John J. Lesko
Web: www.eng.vt.edu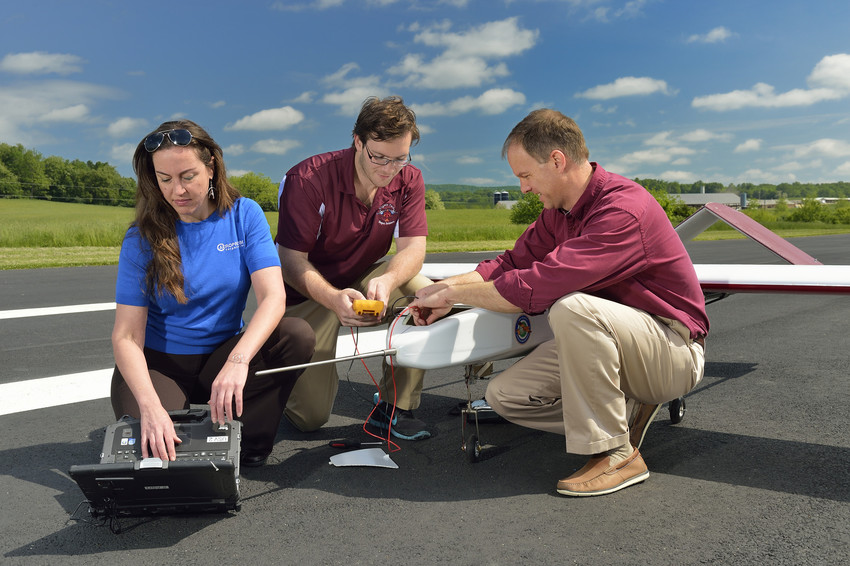 Virginia Tech is the home of the commonwealth's leading College of Engineering. It is known in Virginia and throughout the nation for the excellence of its programs in engineering education, research, and public service. It is the state's largest engineering college and is the fifth largest producer of new B.S. degrees in the United States.
The mission of the College of Engineering is to offer high quality support for our stakeholders in order to provide a successful experience in the engineering education pursuits of our customers. The vision of the college is to foster strong working relationships between faculty, student, and industry partners that will ultimately bring research opportunities through engineering educational offerings. The goals of the college are to attract high-caliber students and to provide them with a top-quality engineering education in preparation for productive careers; to invest in faculty development to enhance Virginia Tech's reputation as a research university and a leader in graduate education; and to forge partnerships with industry and government to facilitate economic development within the Commonwealth and the nation; and to create transdisciplinary teams of students and faculty that will tackle the world's pressing problems through research, education, and engagement.
The College of Engineering offers bachelor of science degrees in the following areas: Aerospace Engineering, Biological Systems Engineering, Biomedical Engineering, Chemical Engineering, Civil Engineering, Computer Engineering, Computer Science, Construction Engineering and Management, Electrical Engineering, Engineering Science and Mechanics, Industrial and Systems Engineering, Materials Science and Engineering, Mechanical Engineering, Mining Engineering, and Ocean Engineering. The Biomedical Engineering program will seek accreditation following the awarding of the first bachelor of science degrees to graduates expected in 2022. The Computer Science program is accredited by the Computing Accreditation Commission of ABET. www.abet.org All other College of Engineering undergraduate programs in engineering are accredited by the Engineering Accreditation Commission of ABET. Additionally, the college of engineering offers graduate degrees related to each of these areas and in the interdisciplinary program of Systems Engineering.
Engineers play an important role in the world and are necessary to solve critical problems of the 21st century. They design and develop new and improved materials, products, and processes for households and industries, from tiny semiconductors, to huge dams, to ensure drinking water is safe. Engineers are needed across a broad spectrum of industry from the traditional fields such as mechanical to the emerging fields of blockchain and biomedicine. Engineers must not only satisfy society's demand for improved performance, reliability, and safety of products, they also are expected to create solutions for environmental and social problems created by emerging technologies.
Virginia Tech engineering graduates are problem solvers with learned classroom knowledge and hands-on applicable skills. Graduates with diverse perspectives trained in engineering will have numerous professional opportunities including large or small manufacturing industries, professional consultants. They may work in government or private research laboratories or teach and do research in universities. If the future leads them into other professions such as medicine, law, food services, or business, their engineering education will provide a sound base. Graduates are in high demand with the Wall Street Journal employer survey ranking the College of Engineering No. 5 in the nation. Our Student Engineers' Council's Engineering EXPO — Virginia Tech's largest career fair and one of the largest student-run career fairs in the nation — bring in well over 300 companies that includes: representatives from companies like NASA, Rolls-Royce, General Electric, Ford, Boeing, General Motors, Newport News Shipbuilding each year. The Virginia Tech College of Engineering is a key recruiting school for major national corporations and government agencies.
It is essential that engineers, regardless of specialty, be well-versed in mathematics, physical sciences and engineering sciences, so that they can adapt readily to meet the profession's ever-changing demands. But professional training is not enough.
Engineers need to have passion, imagination, and insight. They must understand history and traditions of the society in which they live and be familiar with social sciences and humanities. Engineers also must be able to communicate effectively with higher management and the general public. All departments within the college have programs to ensure that every graduate is able to effectively use a variety of spoken, visual, and written communication strategies, which are necessary for success as a student, for employment, and for life as a responsible citizen. Additionally, first year engineering classes emphasize the importance of communications in engineering analysis and design.
In U.S. News & World Report's "America's Best Colleges 2019" survey, released in September 2018, the College of Engineering's undergraduate program is ranked No. 13 among all undergraduate engineering programs that also offer doctoral degrees and eighth among public universities in the nation. Top 10 ranked departments include: the Grado Department of Industrial and Systems Engineering ranked, the Department of Biological Systems Engineering, and the Charles E. Via Jr. Department of Civil and Environmental Engineering.
The latest national survey, dated June 2017, released by the American Society for Engineering Education ranked the College of Engineering in the following categories: No. 6 for the number of women awarded bachelor's degrees, No. 6 for tenured/tenure track faculty members, No. 7 for the number of tenured/tenure track women faculty, No. 13 for the number of African American faculty, No. 10 for the number of Asian faculty, and No. 15 for the number of Hispanic faculty. The data was based on a survey of 315 engineering schools. For total bachelor's degrees awarded by schools, Virginia Tech ranked No. 5 in the nation; No. 41 for master's degrees awarded, and No. 9 for doctoral degrees. In total enrollment, the College ranked No. 9 in the nation for undergraduates with 8,151 students and No. 21 in the nation for graduate students at 2,274 (193 schools reporting).
In May 2018, Block.one, a global leader in blockchain and publisher of the EOSIO blockchain software, made an initial $3 million commitment to the Department of Computer Science in Virginia Tech's College of Engineering to help students build skills in blockchain. As part of the collaboration, Dan Larimer, Block.one chief technology officer and blockchain pioneer, will advise the university on curricula development, including participation in live classroom sessions, seminars, and symposia. Larimer is an alumnus of the Virginia Tech Department of Computer Science. Over the last year, the department hosted a blockchain bootcamp, first blockchain capstone course completed, and bloackchain challenge completed with prize money for top teams.
In Fall 2018, the Joseph "Joe" F. Ware, Jr. Advanced Engineering Lab celebrated 20 years of providing engineering students the opportunity to create, build, and bring to fruition their senior capstone projects. Thanks to the foresight and vision of Joe Ware and his wife Jenna, experiential learning is enhanced for the Virginia Tech undergraduate student engineer in this maker space. The lab removes boundaries that often separate engineering professions. In real-world practice, engineers from different disciplines will work together. Students who work in the lab are highly recruited by to top tier companies who frequent the lab looking for the well-rounded, globally minded engineers who have had hands on experiences. Many also complete their capstone course in this space, which are often topped off by participation in regional, national, or global competitions.
In November 2016, Virginia Tech named its Department of Aerospace and Ocean Engineering in honor of alumnus Kevin T. Crofton, president and chief executive officer of SPTS Technologies Ltd., in recognition of his extraordinary philanthropy. Crofton, a native of Fincastle, Virginia, committed $14 million to the department that bears his name, and $1 million to the university's Division of Student Affairs. The Kevin T. Crofton Department of Aerospace and Ocean Engineering has more than 550 undergraduate students and 160 graduate students enrolled. Its faculty and students are engaged in numerous areas of research, with annual expenditures of more than $8 million. Departmental facilities include wind tunnels, a flight-test runway and hangar, and an advanced power and propulsion laboratory.
In September 2016, Virginia Tech and Qualcomm Inc. began a multiyear collaboration with the launch of the Qualcomm Thinkabit Lab at Virginia Tech's Northern Virginia Center in Falls Church. The Thinkabit Lab experience offers both teachers and students an engaging learning environment — part lab, makerspace, and classroom — to foster creativity, collaboration, and the critical skills necessary for the 21st century. The new Thinkabit Lab is led by Virginia Tech's Department of Engineering Education in the College of Engineering based on Qualcomm's World of Work and STEM coursework. Residing in the Washington D.C area, the lab is Qualcomm's first outside of San Diego, servicing underserved students, students underrepresented in STEM careers, and teachers from the metro Washington, D.C. area. In two-and-a-half years, more than 17,000 visitors have walked through the doors of the lab.In addition, the bold program has touched more than 200,000 students, teachers, and administrators. In April 2019, a second Qualcomm Virginia Tech Thinkabit lab opened in Roanoke, Virginia. Numerous Thinkabit inspired maker spaces have opened in Virginia schools across the commonwealth.
Goodwin Hall houses scores of sensors that currently make it the most instrumented building in the world for vibrations. The roughly 153,000-gross square-foot facility serves as a leading center of engineering education in Virginia. Inside, a 15,000-pound Rolls-Royce Trent 1000 jet engine hangs 15 feet above the floor of the atrium. The engine acts as an art centerpiece of the structure, and as a learning tool for our students for years to come. Other highlights: A robotics lab with glass walls that allow visitors and passersby to see students at work, and a 3-D printer open to any student's use, and located in the atrium of the building. The building was named after alumnus Bill Goodwin and his wife, Alice, in fall 2014. The Goodwins donated $25 million to the construction of the building, a university record for a personal donation. Goodwin graduated with a bachelor's degree in 1962.
The College of Engineering-led Institute for Critical Technology and Applied Science is now housed in the Hugh and Ethel Kelly Building on campus. Ethel Kelly's estate provided $5 million to help cover the cost of the most recent of three buildings built for the institute. That building opened in 2011 and is on Washington Street. What is now Kelly Hall opened in 2009 and is on Stanger Street. Another $1 million from the estate supports the Hugh and Ethel Kelly Lecture Series. Hugh Kelly, who died in 1989, earned his bachelor's and master's degrees of electrical engineering in 1937 and in 1938, worked at AT&T's Bell Laboratories, and played important roles in groundbreaking projects, including the 1962 launch of the Telstar communications satellite, the first private venture in space. Ethel Kelly, who died in 2012, generously supported Virginia Tech's College of Engineering as a way of honoring her husband's legacy.
Virginia Tech College of Engineering and College of Science jointly house the inVenTs Laboratory's Studio I, located on the second floor of Lee Hall. The inVenTs Residential Community provides an interdisciplinary living-learning space for students from engineering, science, and other disciplines to interact and together explore their ability to envision, create, and transform innovative ideas. Approximately 1,300 students have used the facility since its fall 2012 opening. The inVenTs community includes students from four university groups, the Curie Learning Community and the Da Vinci Biological and Life Sciences Community, both in the College of Science, and the Galileo and Hypatia learning communities within the College of Engineering. The retention rate for the students enrolled in the inVenTs program is almost 100 percent.
The Frith Freshman Design Laboratory is a space designed to support the retention and development of young engineers through hands-on learning, peer mentoring, and authentic problem-solving. Part collaboration and innovation space, part fabrication and prototyping space, and part learning laboratory, the Frith Lab enables first-year engineering students to learn by dissecting, designing, making, and analyzing engineering products. It features a tensile/compression materials testing machine, 3-D printers, laser engraver, CNC router, and drill press, along with various hand tools, housed in toolboxes available for checkout.
Virginia Tech was one of the first universities to formally consider the connection between engineering practice and environmental stewardship from an interdisciplinary perspective. The Green Engineering Program was created in 1995 and serves all departments within the College of Engineering.
This program combines environmentally conscious attitudes, values and principles with science, technology, and engineering practice, and focuses this interdisciplinary approach toward improving local and global environmental quality. Based on engineering fundamentals, green engineering analyzes the design of products, processes, and systems to minimize the life cycle environmental impacts, from the initial extraction of raw materials to the energy consumption and waste production during manufacturing to the ultimate disposal of materials that cannot be reused or recycled.
The Green Engineering Program works with students, faculty and the university administration to provide educational and research opportunities with regard to both the environmental impacts and the environmental solutions that can result from engineering practice. A university-recognized minor allows students to pursue their interests in Green Engineering in addition to their primary degree(s) in the College of Engineering. To obtain this minor, students are required to take 18 credit hours in the minor area as follows: six (6) credits in the two core courses – Introduction to Green Engineering and Environmental Life Cycle Analysis; six (6) credits in interdisciplinary elective courses; and six (6) credits in disciplinary electives within the students' major. Detailed lists of the courses which meet the minor requirements can be found in the Green Engineering Web site: www.eng.vt.edu/green.
In 2018, Virginia Tech opened the country's tallest drone park--the latest superlative in a long tradition of autonomous systems research. The Virginia Tech Mid-Atlantic Aviation Partnership, which spearheaded the park's construction and runs its operations, also leads two major federal programs that further drone integration, with a portfolio of high-profile partners like Wing, State Farm, and NASA. The drone park helps extend Virginia Tech's national leadership in drone research, operations, and policy to an even broader group of students and faculty. Inside its boundaries, students, faculty, and staff can test prototype aircraft and run ambitious experiments that lie beyond the narrow, conservative scope of operations permitted in the open; novice pilots can practice their skills.
Since 2015, Marc Edwards, University Distinguished Professor of civil and environmental engineering, and his team of students and research scientists uncovered widespread lead-in-water contamination in Flint, Michigan. The team collected samples from locations across Flint and found extremely high levels of lead and other contaminants in the city's drinking water. In March 2016, the team of students returned to Flint on spring break, working alongside citizen volunteers in Flint collecting water samples for another round of lead testing. Results from the second round of testing showed Flint water is still not safe to drink, but should continue to be used, flushing lead from the system and allowing it to heal. Edwards, a leading expert in safe drinking water and the deterioration of the water delivery infrastructure in America's largest cities, has worked to seek solutions to the crisis. He serves on Michigan Gov. Snyder's advisory group and has testified multiple times before Congress on the crisis. Edwards was named amongst TIME Magazine's 100 Most Influential people in the World, the World's 50 Greatest Leaders by Fortune Magazine, Politico Magazine's Top 50 Visionaries who have transformed American politics, Foreign Policy Magazines 100 World's Greatest Thinkers, and was short-listed amongst Flint whistleblowers as Time person of the year.
The College of Engineering provides experiential learning opportunities to include internships, co-ops and study. The college's Rising Sophomore Abroad Program offers concurrent tracks in the summer to locations on five continents. In six years, the program has grown from sending 24 students to nearly 180 students, making it the largest study abroad program at Virginia Tech. The program was recently awarded the Senator Paul Simon Spotlight Award by NAFSA: Association of International Educators.
Approved by the State Council of Higher Education for Virginia on Sept. 18, the degree will be offered through the Department of Biomedical Engineering and Mechanics within the College of Engineering, which currently hosts both master's and doctoral programs in biomedical engineering through a partnership with the Wake Forest School of Medicine. With the nation's demand for health-related services, products, and professionals expected to skyrocket over the next decade, students in the program will be uniquely trained to bridge the gap between traditional medicine and the technology needed to address emerging and complex health care problems. Accordingly, the new program will emphasize technology transfer, engineering fundamentals, and hands-on learning opportunities.
Through its University Technology Centers, Rolls-Royce has built a network for research and graduate education with 24 universities around the world. Building upon Virginia Tech's successful partnering on the Commonwealth Center for Aerospace Propulsions Systems and the Commonwealth Center for Advanced Manufacturing, Rolls-Royce awarded UTC standing for Virginia Tech and the University of Virginia.
With the release of youth football helmet ratings by the Virginia Tech Helmet Lab — already renowned for their helmet ratings for varsity football and other sports — consumers see for the first time which helmets best reduce concussion risk. The Virginia Tech Helmet Lab has been rating varsity football helmets since 2011; their five-star scale, which they have since expanded to other sports, has provided more clarity to consumers and helped drive innovation in the helmet industry. Other helmet, head gear or sensor ratings include: bicycle, soccer, softball, baseball, and hockey.
The college is known for its hands-on learning that takes place outside of the classroom. More than 50 current and former Virginia Tech students were involved in a different kind of auto competition called the Autodrive Challenge, which is not a race, but rather, a chance to prove that autonomous vehicles can safely and successfully navigate a course, so they can one day do the same on a city street. The students have different jobs in a competition that moves around the US over the course of four years. This team placed 2nd in the first year of the competition.
In November 2018, after years of research and development contributed by over 100 Virginia Tech students and faculty, the FutureHAUS Dubai team officially built the world's best solar home. The lone American team earned a first-place victory over 14 other selected teams and more than 60 total entrants of the 2018 Solar Decathlon Middle East, a competition launched by the United States Department of Energy and the United Arab Emirates' Dubai Electricity & Water Authority. The global competition aimed to accelerate research on building sustainable, grid-connected, solar homes. The concept of FutureHAUS Dubai was brought to life through a university-wide effort, combining talents and research from Virginia Tech's College of Architecture and Urban Studies, College of Engineering, Myers-Lawson School of Construction, Pamplin College of Business, College of Liberal Arts and Human Sciences, College of Science, and various centers and labs within.
Over the last several years, an interdisciplinary team of 50 undergraduate students from the College of Engineering and the College of Science developed Virginia Tech's CubeSat at the Center for Space Science and Engineering Research, known as Space@VT. The group of undergraduate students recently delivered their small satellite to Houston to be incorporated into NanoRacks' commercially developed CubeSat deployer. Virginia Tech's satellite, along with two satellites from other Virginia universities, launched on the payload section of Northrop Grumman's Antares rocket and then onto to the International Space Station.
In the 2018-2019 academic year, over three million dollars in scholarship funds were awarded to undergraduate students in the College of Engineering. Scholarships are available at two levels: departmental & college. While all scholarships are merit-based (all required a minimum 3.0 overall GPA to be awarded), may also require a demonstration of financial need per the FAFSA. More information about the types of scholarships awarded can be found at https://eng.vt.edu/academics/undergraduate-students/scholarships-for-current-students.html
The University Honors Program offers a unique challenge to students with extraordinary intellectual and creative abilities. The program is available to all engineering departments and includes the opportunity for enrollment in accelerated courses, enriched sections, and independent study.
A five-year Cooperative Education program for qualified students is available in all of the engineering curricula. After at least two qualifying semesters, students may alternate semesters of study on campus with work periods in industry. Participants are required to have a minimum of a 2.0 overall grade point average, and students must have earned a 2.0 in the semester prior to any work experience. Individual departments may impose higher GPA restrictions, including ones based on in-major GPA.
Nearly 10,000 students were enrolled in undergraduate and graduate engineering departments at Virginia Tech as of fall 2016. In the entering 2017-2018 freshman class, the average SAT score for the general engineering student was 1291 and the average high school grade point average was 4.14 on a weighted scale. Females made up 22% of the fall 2017 freshman class, and 22% of the total college population in fall 2017. Members of under-represented populations make up 30.1 percent of the freshmen class.
Of the 2016-2017 College of Engineering bachelor's degree graduates who were employed full-time, (the most recent year for which statistics are known), 67 percent were employed in a field related to their major and 13% were pursuing advanced degrees. The average annual salary at the bachelor's level was $65,000.
All students admitted to the College of Engineering as freshmen or external transfers are placed in the Department of Engineering Education and are designated as general engineering majors. Admission to a degree program is competitive, with departmental restrictions established each year by the college. Upon completion of a set of required freshman-level courses, and completion of 12 hours of A-F graded coursework at Virginia Tech, students with acceptable academic records are eligible for transfer into one of the college's 14 degree programs.
Students wishing to transfer into an engineering program or change majors from another college or degree program within the university must meet current standards set by the college for each engineering program. All major changes are processed by the Engineering Education department.
The college has a guaranteed admission agreement with the Virginia Community College System. VCCS students who complete the transferable Associate Degree in engineering with a minimum 3.2 overall grade-point-average are guaranteed admission to the College of Engineering as a General Engineering major. Not all Virginia Community Colleges offer engineering courses. The Associate Degree in engineering is offered at Blue Ridge, Central Virginia, Danville, Germanna, J. Sargeant Reynolds, John Tyler, Lord Fairfax, Mountain Empire, New River, Northern Virginia, Piedmont Virginia, Southwest Virginia, Thomas Nelson, Tidewater, Virginia Highlands, Virginia Western, Wytheville.
Engineering Technology credits are not accepted for transfer by the College of Engineering.
Out-of-state students in engineering come primarily from Maryland, New Jersey, Pennsylvania, and New York. Members of under represented populations (including women) make up 34% of the college enrollment.
In fall 2005, 4,800 prospective students applied for admission to the College of Engineering. By fall 2016, over 10,000 applied. Starting with fall 2010, the target size for the freshman engineering class was raised from 1200 to 1300, an 8 percent increase. In fall of 2015 the target was 1650, and some 1800 were admitted. In 2005 the entering engineering freshman class was 15.6 percent female, 2.1 percent African-American, 1.8 percent Hispanic. By comparison, in 2016 the entering engineering freshman class was 25.9 percent female. The number of entering females is a record.
Minimum requirements for graduation include the attainment of at least a "C" (2.0 Grade Point Average) average, both overall and in-major. Some departments may have additional requirements or specifications concerning the acceptability of C- or lower grades for in-major courses. Students are expected to sustain progress towards completion of their degree requirements, consulting with their academic advisor regularly.
In addition to meeting university requirements, eligibility requirements for enrollment have been established by individual departments.
Entry into a degree-granting department requires that a student successfully complete all first year required courses, and at least 12 GPA hours at Virginia Tech. All degree-granting majors accept applicants on a space-available basis. The change of major requirements, policies, and dates can be located at: www.enge.vt.edu/undergraduate-changing-majors.html.
Degree requirements in the college range from 123 to 132 semester hours. Students should see their departmental advisors to determine the exact requirements of their degree. The 2.0 minimum GPA requirement for graduation also applies to all courses attempted in the student's departmental major; substituted non-departmental courses are not included. Where courses have substantial duplication, credit toward graduation will be given for one course only.
The senior academic year must be completed in residence while enrolled in the major department in the College of Engineering.
Although pass/fail courses may be authorized for those who maintain a GPA above 2.0, students should recognize future disadvantages when transferring to other departments or applying for admission to other professional or graduate colleges. Engineering students are expected to take all major department courses on a grade basis. Independent study and undergraduate research courses are available for those who maintain a GPA above 2.0 overall and in their departmental majors; some departments may require a higher GPA.
The College of Engineering will accept advanced ROTC credit as free elective credit towards graduation. Some departments in engineering may allow the use of selected ROTC courses to meet technical elective requirements. Consult specific departments in the College of Engineering for information.
Degree Requirements
The graduation requirements in effect at the time of graduation apply. When choosing the degree requirements information, always choose the year of your expected date of graduation. Requirements for graduation are outlined in university publications known as "Checksheets". The number of credit hours required for degree completion varies among curricula. Students must satisfactorily complete all requirements and university obligations for degree completion.
The university reserves the right to modify requirements in a degree program. However, the university will not alter degree requirements less than two years from the expected graduation year unless there is a transition plan for students already in the degree program.
Please visit the University Registrar website at www.registrar.vt.edu/graduation/checksheets/index.html for degree requirements.