Communication
---
---
Head: Robert E. Denton, Jr.
Assistant Head: Douglas F. Cannon
Director of Undergraduate Programs: Brandi A. Quesenberry
Director of Graduate Studies: Beth M. Waggenspack
W. Thomas Rice Chair: Robert E. Denton, Jr.
Professors: R. E. Denton Jr., J. D. Ivory, W. W. Hopkins, J. A. Kuypers, and J. C. Tedesco
Professors of Practice: D. F. Cannon, R. J. Reed, and W. B. Roth
Associate Professors: C. Evia, R. L. Holloway, J. A. Kuypers, J. B. Mackay, and B. M. Waggenspack
Assistant Professors: M. A. Duncan, K. Haenschen, M. A. Horning, A. H. Ivory, N. J. Logan, N. Mielczarek, M. C. Myers, S. A. Smith, D. J. Tamul, B. A. Watkins, and C. L. Woods
Senior Instructor: E. W. Stallings
Advanced Instructors: B. W. Howell, D. M. Jenkins, B. A. Quesenberry, S. J. Robinson, and H. Shinault
Instructors: C. H. Boor, D. Conner, N. Sowder, S. Stinson, and J. Woolly
Web: www.liberalarts.vt.edu/departments-and-schools/department-of-communication.html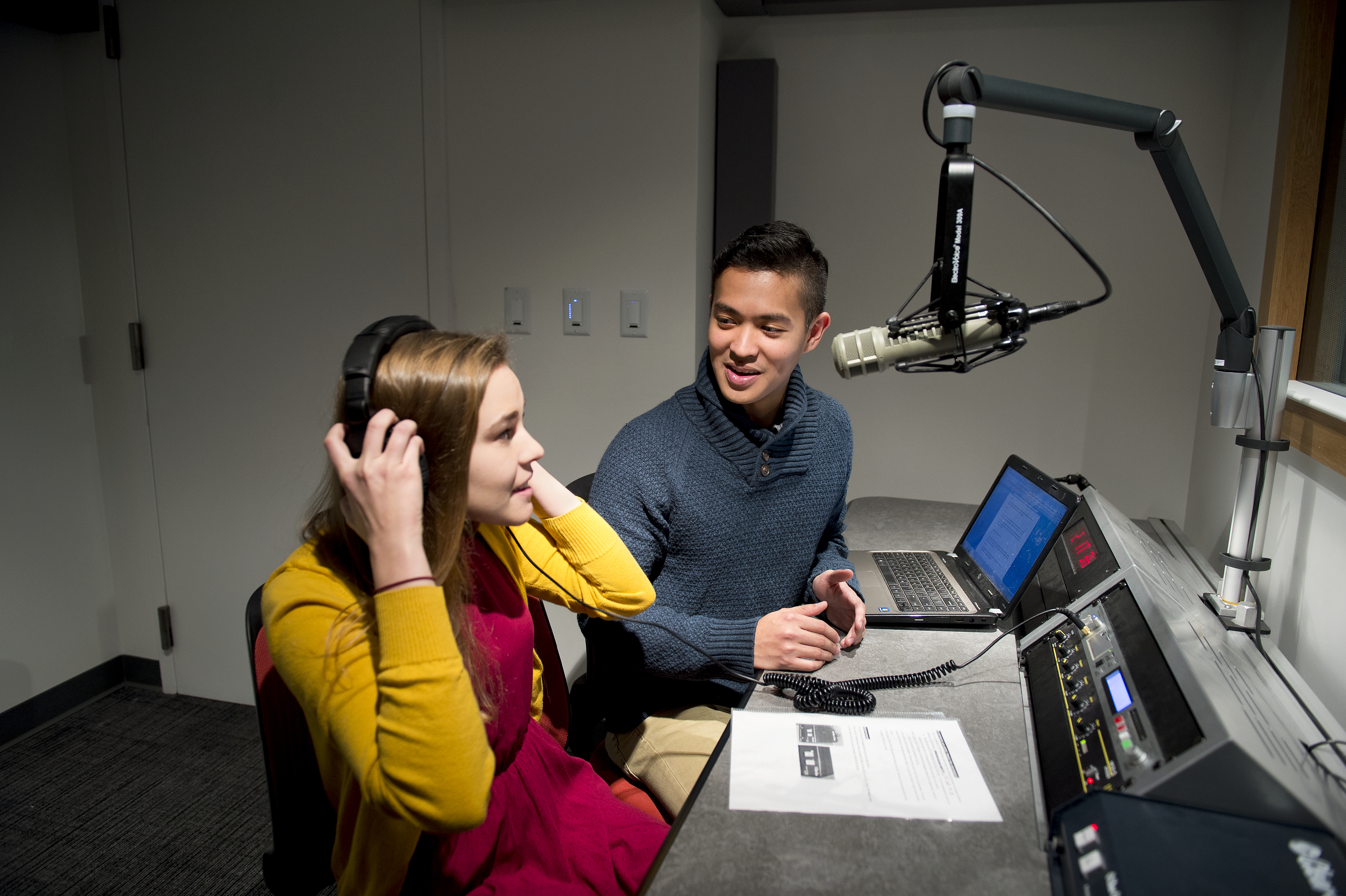 The majors in communication, leading to a B.A., allow students to develop a broad understanding of the discipline and specific expertise in Communication Studies, Multimedia Journalism, or Public Relations. The Department of Communication focuses on strategic, theoretical, and practical application of message creation, delivery, analysis, and criticism in cultural and historical contexts.
Students in communication majors are prepared to continue their studies in graduate school or immediately apply their skills in various professional settings because of the broad applicability of both the theory to which they are exposed and the competencies they develop. Rooted in a strong liberal arts curriculum, these majors prepare students to enter careers in mass media, business, public service, government, or professional specializations, such as law.
Students choose one of three majors in communication to specialize in the discipline: Communication Studies, Multimedia Journalism, and Public Relations. Multimedia Journalism offers a concentration in Sports Media and Analytics.
Communication Studies (CMST) - This major develops human-interaction strategies and skills for face-to-face, public, and organizational contexts relating to decision making, influence, and information exchange. As a graduate, you might consider careers in business, health, civic engagement, public opinion, law, education, and ministry.
Public Relations (PR) - This major emphasizes both skill and management functions of public relations through theoretical and practical applications. Public relations spans media, organizational, corporate, and political contexts and includes investigation and analysis of public relations situations (e.g., crises, successes), message production and campaign planning, writing and presentation, and evaluation of public relations strategies. Public relations permeates many areas of corporate, non-profit, and political work, so this major provides students a foundation for many different career paths.
Multimedia Journalism (MJ) - This major prepares students for news careers at newspapers, magazines, broadcast and cable outlets, and new media operations. The lines that separate these specialties are blurring as media convergence becomes more the norm. Courses provide both practical skills and theory as they address history, law and ethics, current controversies and opportunities in the changing news media.
Sports Media and Analytics (Concentration) - This concentration enables students to complete the MJ curriculum while specializing in Sports Media and Analytics. In addition to mastering the content and skills of MJ, you will participate in the production and delivery of sports news, consider ways to promote the sports industry with your study of public relations, and analyze data related to sports accomplishments, fan participation, and social media. The employment opportunities are myriad and include sports reporting, public relations for sports venues, teams, and/or athletes, and promotional work for businesses that support the fans.
The curriculum is designed to provide foundational and development courses along with major-specific study. Students are introduced to concepts early in the undergraduate career, and the curriculum allows them to build knowledge and skills as they work on increasingly complex tasks. Students develop skills in written, spoken, and visual communication across their studies in the major. At the foundational level, students in every major are required to take the same introductory courses.
Degree Requirements
The graduation requirements in effect at the time of graduation apply. When you consider information about the degree requirements, always choose the year of your expected graduation. Requirements for graduation are listed on checksheets. The number of credit hours required for degree completion varies among curricula. Students must satisfactorily complete all requirements and university obligations for degree completion.
The university reserves the right to modify requirements in a degree program. However, the university will not alter degree requirements less than two years from the expected graduation year unless there is a transition plan for students already in the degree program.
Please visit the University Registrar's website at http://registrar.vt.edu/graduation-multi-brief/index1.html for degree requirements.
The department offers a minor in strategic communication. This multidisciplinary minor is open to majors from across the university and is especially appropriate for students in business or science, technology, engineering, and mathematics disciplines. Coursework allows students to learn how strategic communication works in a variety of industries and prepare for the 21st century workforce. Few jobs have no communication components.
The minor curriculum introduces students to strategic communication through a four-course introductory experience. It covers basic communication skills, public relations, design, and accounting. Introductory coursework requires students to integrate multiple areas of learning such as discourse, quantitative and computational thinking, reasoning in the social sciences, critique and practice in design and the arts, international and cultural awareness, and understanding ethical issues. Two advanced courses enable students to focus on particular issues in strategic communication, such as issues management, corporate social responsibility, or communication law. A capstone course lets students synthesize and analyze topics and issues they explored in the four foundational and two advanced courses.
Specific course requirements for the 18-hour strategic communication minor are explained on a checksheet.
University policy requires that students demonstrate their progress toward the degree by meeting minimum requirements. A student will be certified as making satisfactory progress toward a degree by meeting the following requirements:
Completion of COMM 1014 within the first six classes (18 hours) in the major
Completion of COMM 2124 within the first eight classes (24 hours) in the major
Overall GPA: 2.0
COMM GPA: 2.0
Students who fall below the standard for either the overall GPA or the COMM GPA will have one semester to regain the required GPA standards. A student who fails to make satisfactory progress toward degree after that semester will be blocked from continuing in any communication major.
Incoming freshmen and students enrolled at other institutions should follow directions for application as shown on the Admissions website.
Students enrolled in other Virginia Tech majors who wish to transfer into Communication may use the online system for application.
Please see the Departmental Website for more information about majors and the minor: www.liberalarts.vt.edu/departments-and-schools/department-of-communication.html
Contact: comm@vt.edu
1004: FIRST-SEMESTER EXPERIENCE IN COMMUNICATION
Introduction to areas of research, ethical behaviors, and career paths in the discipline. Consideration of strategies for learning, accessing advising, and locating resources. (1H,1C)
1014: INTRODUCTION TO COMMUNICATION
Survey of the communication discipline across areas of specialization from interpersonal to mediated and mass communication, including history and fundamental concepts, theories, contexts. Emphasis on ethical human behavior and message analysis. (3H,3C)
1015-1016: COMMUNICATION SKILLS
Introduction to oral and written communication. 1015: Focus on oral and written communication in interpersonal, small group, and public contexts. Special emphasis on the writing process, listening, interviewing, conflict resolution, critical analysis, and communication in digital and visual media. 1016: Continued Study in oral and written communication skills for small group and public contexts. Focus on practical applications in ethical research and information gathering, audience analysis and adaptation, message development, and oral, written, and visual presentations by individuals and groups. May not receive credit for both 1016 and 2004. (3H,3C)
1114: INTRODUCTION TO MEDIA PRODUCTION TECHNOLOGY
Introduction to basic technologies necessary for multimedia production. Attention to aesthetics and technical aspects of production technologies, including creation, editing, and organization of content. (3H,3C)
2004: PUBLIC SPEAKING
Strategies and practice for speaking to specific audiences. Ethical considerations for message preparation, development, presentation, and evaluation. Pre: Sophomore standing. COMM 2004 partially duplicates COMM 1016. (3H,3C)
2014: SPEECH COMMUNICATION
Introductory study of communication messages across various types, including intrapersonal, interpersonal, small group and public. Credit may not be earned for both 1015 and 2014. (3H,3C)
2024: MEDIA WRITING
Writing and information gathering skills including news, features, press releases, and advertising copy for broadcast, print and public relations media. Sophomore Standing Required. Pre: 1016 or ENGL 1106 or ENGL 1204H. (3H,3C)
2034: VISUAL MEDIA
An introduction to the visual image and visual thinking applied to photography, video, and film. Sophomore standing required. Pre: 1016 or ENGL 1106 or ENGL 1204H. (3H,3C)
2044: PRINCIPLES OF PUBLIC RELATIONS
Principles of public relations practice; public relations in organizations; responsibilities of the public relations practitioner; legal and ethical considerations; role of public relations in society; history of the field and key people who influenced its development; choosing appropriate communication channels/media. (3H,3C)
2064: THE RHETORICAL TRADITION
Analysis of great classic and contemporary theories of rhetoric developed throughout the world during the past 2500 years to demonstrate the dynamic, critical nature of persuasive communication. Study of methodological approaches to rhetorical criticism, ethics of message creation, communication contexts, emerging perspectives, and impact of changing culture on rhetorical theory. (3H,3C)
2074: INTRODUCTION TO MASS COMMUNICATION
Development, concepts, and impact of sports media, including roles and responsibilities of journalists, production staff, and public relations professionals. Considerations of stakeholders' behaviors and connections. Study of ethical standards and perspectives, communication in sports organizations, types of media, issues in context, and data analytics. (3H,3C)
2084: MEDIA AND SOCIETY
An examination of media influence on society. Emphasis on impact of media (such as newspapers, film, social networks, and video games) on diverse audiences and cultures. Considerations of the evolution of media; social institutions and trends related to the media; domestic, global, ethical, and legal questions posed by the media; intercultural communication; and new technology's influence on society. (3H,3C)
2104 (AINS 2104) (HUM 2104): ORAL TRADITIONS AND CULTURE
Examination of the world's great oral traditions, both ancient and contemporary. Emphasis on performance contexts, relationships among multicultural traditions, including American Indian oral traditions, and the relationships among orality, literacy, technology, media, and culture. I (3H,3C)
2124: INTRODUCTION TO COMMUNICATION RESEARCH
Study of approaches to research in the discipline, including identification and analysis of existing research; procedures for conducting and reporting basic research in communication. Sophomore Standing required. Pre: 1016 or ENGL 1106 or ENGL 1204H. (3H,3C)
2134: INTRODUCTION TO HEALTH COMMUNICATION
Introduction to health communication with a focus on current issues and perspectives, including patient-provider communication, cultural conceptions of health and illness, media portrayals of health, communication in health organizations, health communication theories, information technologies in health communication, ethical considerations, and health promotion campaigns. (3H,3C)
2964: FIELD STUDY
Pass/Fail only. Variable credit course.
2974: INDEPENDENT STUDY
Variable credit course.
2974H: INDEPENDENT STUDY
Honors section. Variable credit course.
2984: SPECIAL STUDY
Variable credit course.
3014: PUBLIC RELATIONS CASES
Analysis of contemporary and historic public relations cases. Emphasis on theories, research techniques, planning methods, implementation strategies, evaluation standards, and ethical considerations in public relations programs and campaigns. Pre: 2044. (3H,3C)
3044: ORAL COMMUNICATION CENTER PRACTICUM
Focus on peer pedagogy in a communication center to support development of oral communication competence among students across disciplines. Emphasis on oral communication theory applied to one-on-one support for students' oral presentations. May repeat 1 time. Pre: 1016 or 2004. (1H,1C)
3064: PERSUASION
Theoretical foundations of persuasion; techniques of persuasion; contemporary persuasive practice and campaigns; persuasive media strategies. Junior standing required. Pre: 1014. (3H,3C)
3074: PERSUASIVE PUBLIC SPEAKING
Advanced critical analysis, preparation and presentation of persuasive speeches. Study of advanced rhetorical principles with emphasis on policy speeches and the use of proofs to convince, strengthen beliefs, and motivate listeners to overt action. Advanced focus on approaches to research, audience analysis, effective organization and extemporaneous delivery. Pre: 1016 or 2004. (3H,3C)
3084: ADVANCED PUBLIC RELATIONS RESEARCH METHODS
Analysis and implementation of contemporary academic and professional research tools for public relations. Emphasis on development of research designs, assessment and evaluation of public relations programs and campaigns, and implementation of ethical research practices and standards. Pre: 2044, 2124. (3H,3C)
3114: VIDEO PRODUCTION: STUDIO
Producing, directing, and writing live video segments; operating control room and studio equipment including studio camera, video switcher, audio board and the creation of video graphics and written packages. Pre: 2034. (2H,3L,3C)
3124: INTERPERSONAL COMMUNICATION
Basic theories and processes of person-to-person communication; interpersonal perception; verbal and nonverbal communication; establishment of relationships in the family and work situation. Junior standing required. (3H,3C)
3134: PUBLIC ADVOCACY
Practical reasoning and argumentation about questions of community significance, emphasizing critical thought, rhetorical strategies, and advocacy. Junior standing required. Pre: 2004 or 1016. (3H,3C)
3144: WRITING AND EDITING FOR PUBLIC RELATIONS
Advanced writing and editing used to structure and present information in the practice of public relations. Includes message development, message design for delivery through various media, copyediting skills and tools, and strategies for dissemination. Pre: 2024. (3H,3C)
3154: MULTIMEDIA REPORTING
Multimedia news gathering, news writing, audio/visual storytelling, and news judgment for the print and online media. Consideration of professional strategies and standards for reporters, including legal and ethical issues. Pre: 2024, 2034. (3H,3C)
3164: GROUP PROCESSES AND PRESENTATIONS
Study of group theory and its application to a group project, including team dynamics and leadership, conflict resolution, project management, and team presentation strategies. (1H,1C)
3174: ADVANCED MULTIMEDIA REPORTING
Multimedia gathering and writing of complex news, features, and documentary; visual content and news judgment for television, print and online media; techniques of broadcast interviewing and on-camera performance. Considerations of legal and ethical issues related to the reporting of complex news. Pre: 3154. (2H,2L,3C)
3214: PROFESSIONAL COMMUNICATION
Theory and contemporary practice of professional oral communication, including interpersonal interaction, small group problem-solving, and public presentations. Emphasis on ethical exchanges in traditional or virtual workshops settings. Pre: 1016 or 2004. (3H,3C)
3244 (PSCI 3244): POLITICAL COMMUNICATION
Distribution of political information; elite-mass communication; alternative models of political communication; communication and telecommunications policy. Pre: PSCI 1014 or PSCI 1024. (3H,3C)
3254 (PSCI 3254): MEDIA AND POLITICS
Explores the role of the mass media in contemporary American politics by examining the development of media as sources of social and political influence. Study of news organizations, their coverage of electoral and issue campaigns, and their impact on candidates and voters. Includes the role of new technologies in campaigns. Pre: Junior Standing. (3H,3C)
3264: COMMUNICATION AND GENDER
Examines how verbal, nonverbal, and visual communication create, sustain, and challenge the meaning of gender and cultural structures and practices. Junior standing. (3H,3C)
3274: SOCIAL DIMENSIONS OF GAMES, SIMULATIONS, AND VIRTUAL ENVIRONMENTS
Social impacts, key issues, and research findings related to video games, simulations, and virtual environments. Ethical, policy, and social dimensions in society; industry data and research. Prerequisite: Junior standing. (3H,3C)
3304: TOPICS IN SPORTS COMMUNICATION
Study of the theory and practices related to sports communication in fields such as public or reporting. Topics may include print, broadcast, and online news; college sports information; social media; crisis management; and media relations. May be repeated once with different course content. Junior standing. (3H,3C)
3314: SPORTS JOURNALISM
Theory and practice of sports journalism, including strategies for writing and broadcasting sports information. Study of ethics and professional standards. Junior standing required. Pre: 2024, 2034. (3H,3C)
3324: CORPORATE COMMUNICATION
Examines communication theories, strategies and tactics that corporations use in their public relations efforts to reach and influence publics. Prepares students for "in-house" public relations work and familiarizes them with expectations of corporate clients. Introduces students to the important role communication plays within and between for-profit, nonprofit, and government institutions. Emphasis on the influence of corporate culture, ethics and values on communication styles. Junior standing required. (3H,3C)
3334: PUBLIC RELATIONS AND CORPORATE SOCIAL RESPONSIBILITY
Explores role of communication in corporate social responsibility. Emphasis on the ethical implications of communicating the need to generate profits with the need to ensure that corporate actions do not harm important stakeholders such as employees, investors, customers, and communities. Pre: 2044. (3H,3C)
3344: PUBLIC RELATIONS AND SPORTS
Examines communication theories, strategies, and tactics that sports organizations use in their public relations efforts. Introduces students to the dynamic relationship between sports organizations, media, and fans. Study of ethics and professional standards in sports public relations. Emphasizes the role of public relations in sports as a strategic communication and management function. (3H,3C)
3954: STUDY ABROAD
Variable credit course. X-grade allowed.
3984: SPECIAL STUDY
Variable credit course.
4014: MEDIA EFFECTS
Impact of mass media on individuals and on society; methods for documentation of media effects; research about effects on various demographic groups such as children, elderly, and minorities; effects of advertising; effects of interactive and time shift technologies. Junior standing required. Pre: 2124. (3H,3C)
4024: COMMUNICATION LAW
Study freedom of speech and the press how these freedoms apply to the press, public relations, advertising and personal speech. Consideration of First Amendment theories and jurisprudence; related ethical issues. Senior standing. (3H,3C)
4044 (IS 4044): INTERNATIONAL COMMUNICATION
Comparative perspectives on global communication systems; problems with the flow of information; roles of international organizations; mass communication and national development; implications for conflict resolution; selected case studies. Senior standing required. (3H,3C)
4064: SOCIAL MEDIA ANALYTICS
Introduction to analytic techniques for social media platforms. Quantitative and qualitative analytic techniques. Design, implementation, and analysis of experimental and observational studies of how people use and engage with social media platforms and how platforms themselves can be used to drive engagement with content. History and trending topics in social media use. Ethical issues involving social media and big data. Pre: 2124. (3H,3C)
4074: ORGANIZATIONAL COMMUNICATION
Role of communication in complex organizations; communication networks, communication and management, message systems, decision-making; relationships between organizational theory and communication. Senior standing required. (3H,3C)
4094: BROADCAST MANAGEMENT
Broadcast management procedures; programming; sales and advertising. Senior standing required. Pre: 3154. (3H,3C)
4114: PHOTOJOURNALISM
Interpretive and creative photography applied to journalism; cameras, films, photography techniques; history of photography as communication; advanced darkroom techniques. Junior standing required. Pre: 2034. (3H,3C)
4134: EDITORIAL WRITING
Development and function of the editorial page; writing of editorials, reviews, and personal columns; examination of role of letters and syndicated columns and cartoons; problems editorial writers face in their jobs and communities. Junior standing required. (3H,3C)
4144: MAGAZINE WRITING
The writing of feature material (as opposed to the reporting of hard news), plus detailed examination of several article types from a wide variety of contemporary magazines and newspapers. Junior standing required. Pre: 2024. (3H,3C)
4154: DIGITAL NEWSROOM
Production of news, including newsroom operations, management, legal and ethical issues, and professionalism. Professional reporting in the newsroom setting and across platforms, including professional writing, interviewing, and photography/videography. Pre: 3174. (1H,3L,3C)
4164: PUBLIC RELATIONS ADMINISTRATION
Public Relations (PR) administration issues related to budgeting, strategy, legal issues, and campaigns in an organization. Emphasis on PR theory and ethics. Pre: 2044. (3H,3C)
4174: DIGITAL ADVOCACY CAMPAIGNS
Study of advocacy campaigns with digital components. Rhetorical considerations in message construction, analysis of persuasive techniques, ethical standards, and strategies for campaign development. Senior standing required. Pre: (1016 or 2004), 2124. (3H,3C)
4204: COMMUNICATION INTERNSHIP
Placement in a communication industry for practical internship under supervision by a departmental advisor and a professional in the field. May be repeated for credit up to a maximum of 6 hours credit. Junior standing and consent required. Pass/Fail only. Variable credit course.
4224: TOPICS IN MEDIA CRITICISM
Selected topics in media criticism. Offered on demand. Senior standing and consent required. (3H,3C)
4244: TOPICS IN COMMUNICATION SCIENCE AND SOCIAL INQUIRY
Selected topics in communication science and social inquiry. Emphasis on application of theory and research in selected context. May include theories of persuasion and social influence or media studies. Theoretical foundations, research methods, media and technology that determine the communication effects, strategies, and tactics used to reach and influence publics. May be repeated with different content for a maximum of 9 credit hours. Pre: Junior standing. Pre: 1014. (3H,3C)
4254: TOPICS MULTIMEDIA JOURNALISM
Selected topics in multimedia journalism; emphasis on critical analysis of issues in journalism, and application of media to disseminate information. May be repeated for credit up to a maximum of 6 credit hours with different content. Pre: 2024, 2034. (3H,3C)
4264: SOCIAL MEDIA THEORY AND PRACTICE
Study of social media as a professional communication and media tool. Emphasis on foundations in communication theory and contemporary approaches. Pre: 2034. (3H,3C)
4274: BROADCASTING PERFORMANCE
Advanced study of on-air performance for broadcasters. Professional behaviors and strategies for developing conversational writing, broadcast style, interviewing, reporting, and anchoring. Pre: 3154. (3H,3C)
4304: PUBLIC RELATIONS CAMPAIGNS
Public relations campaign research, planning, implementation and evaluation. Emphasis on applying theory in campaign contexts; executing applied research; setting objectives; developing strategic plans, messages and budgets; carrying out courses of action; and evaluating results. Pre: 2124, 3144, 3014. (3H,3C)
4314: COMMUNICATION AND ISSUES OF DIVERSITY
Study of diversity including issues such as power, race, ethnicity, social class, gender, disability, age, and sexuality as related to communication theory and practice. Pre: Senior standing (3H,3C)
4324: ISSUES IN HEALTH COMMUNICATION
Study of issues related to the theory and practice of health communication, including interpersonal, public, organizational, political, and cultural. Junior standing required. (3H,3C)
4334: COMMUNICATION ETHICS
Discussion of issues related to professional communication ethics; emphasis on recognizing ethical issues, applying theoretical models and critical thinking skills to ethical issues in multimedia journalism, public relations, and communication studies. Includes research on topics related to communication ethics. Pre: Junior standing. (3H,3C)
4344: FREE SPEECH IN CYBERSPACE
Discussion of free expression on the Internet; an examination of how First Amendment law; state laws and federal communication policies impact the multiple kinds of speech that take place in cyberspace; examination of the history and development of the Internet and the future of free speech in cyberspace. Pre: Senior standing. (3H,3C)
4344H: FREE SPEECH IN CYBERSPACE
Discussion of free expression on the Internet; an examination of how First Amendment law; state laws and federal communication policies impact the multiple kinds of speech that take place in cyberspace; examination of the history and development of the Internet and the future of free speech in cyberspace. Pre: Senior standing. (3H,3C)
4364: ISSUE MANAGEMENT IN PUBLIC RELATIONS
Principles of issue management: creation, development, and resolution; role of rhetoric in public policy processes; legal constraints; strategies; social responsibility. Junior standing required. (3H,3C)
4374: NEW COMMUNICATIONS TECHNOLOGY
Identify recent trends in the innovation of new communications technologies; storage, transmission, and display systems of mediated communication: optical disc, common carriers, telecommunication-computer linkages, high-definition TV, and virtual reality; information industries and society; markets for new and existing telecommunication services. Junior standing required. Pre: 2084 or 4014. (3H,3C)
4404: COMMUNICATION CAPSTONE
In-depth study of a particular issue or theme in communication. Integrates previous work in the discipline, focuses on research and presentation of research. Pre: Junior standing. (3H,3C)
4414: PUBLIC RELATIONS STANDARDS AND PRACTICES
Addresses complexities of public relations research, planning, implementation, and evaluation required for professional certification. Includes special emphasis on public relations legal and ethical practices. Senior standing. Pre: 2044. (3H,3C)
4964: FIELD STUDY
Pass/Fail only. Variable credit course.
4974: INDEPENDENT STUDY
Variable credit course.
4974H: INDEPENDENT STUDY
Variable credit course.
4984: SPECIAL STUDY
Variable credit course.
4994: UNDERGRADUATE RESEARCH
Variable credit course.
4994H: UNDERGRADUATE RESEARCH
Variable credit course.