College of Engineering
---
Course Descriptions & Programs of Study
---
Dean: G. Don Taylor (Interim)
Associate Dean for Academic Affairs: Bevlee A. Watford
Associate Dean for Administration and Chief of Staff: Edward L. Nelson
Associate Dean for International Programs and Information Technology: Glenda R. Scales
Associate Dean for Research and Graduate Studies: John J. Lesko
Web: www.eng.vt.edu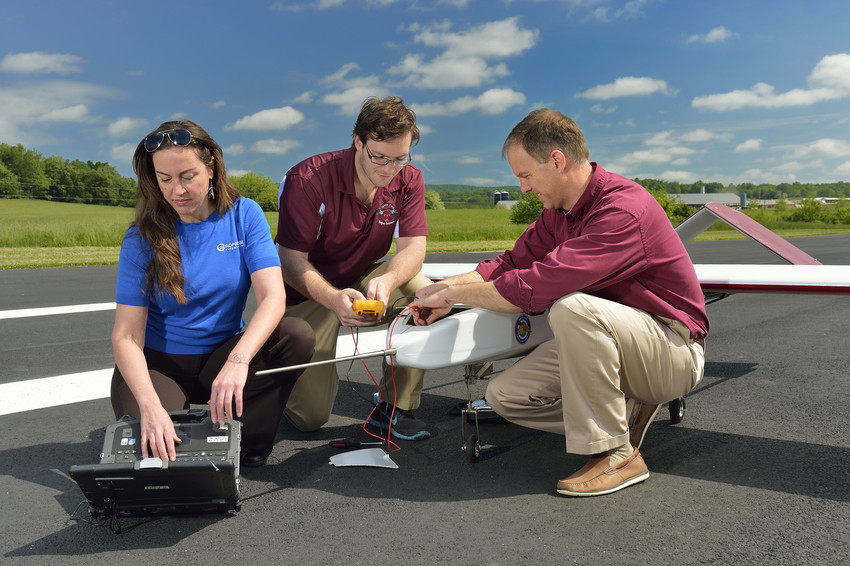 Virginia Tech is the home of the commonwealth's leading College of Engineering. It is known in Virginia and throughout the nation for the excellence of its programs in engineering education, research and public service. It is the state's largest engineering college, and ranks among the top five suppliers of new B.S. degrees in the United States.
The mission of the College of Engineering is to offer high quality support for our stakeholders in order to provide a successful experience in the engineering education pursuits of our customers. The vision of the college is to foster strong working relationships between faculty, student and industry partners that will ultimately bring research opportunities through engineering educational offerings. The goals of the college are to attract high-caliber students and to provide them with a top-quality engineering education in preparation for productive careers; to invest in faculty development to enhance Virginia Tech's reputation as a research university and a leader in graduate education; and to forge new links with industry and government to facilitate economic development within the Commonwealth and the nation.
The College of Engineering offers bachelor of science degrees in the following areas: Aerospace Engineering, Biological Systems Engineering, Chemical Engineering, Civil Engineering, Computer Engineering, Computer Science, Construction Engineering and Management, Electrical Engineering, Engineering Science and Mechanics, Industrial and Systems Engineering, Materials Science and Engineering, Mechanical Engineering, Mining Engineering, and Ocean Engineering. The Computer Science program is accredited by the Computing Accreditation Commission of ABET, www.abet.org. All other College of Engineering undergraduate programs in engineering are accredited by the Engineering Accreditation Commission of ABET, www.abet.org.
Engineers play an important role in modern society. They design and develop new and better materials, products and processes for households and industries, from tiny semiconductors to huge dams. Engineers are needed across a broad spectrum of industry from the traditional field such as mechanical to the emerging fields of robotics and biomedicine. Engineers must not only satisfy society's demand for improved performance, reliability and safety of products, they also are expected to supply solutions for environmental and social problems created by new technology.
Our graduates are well-rounded. Men and women trained in engineering will find many professional outlets. They may join large or small manufacturing industries or they may offer their skills and knowledge as professional consultants. They may work in government or private research laboratories or teach and do research in universities. If the future leads them into other professions such as medicine, law, food services or business, their engineering education shall provide a sound base. Graduates of the College of Engineering are in high demand. Our Student Engineers' Council-run Engineering EXPO -- one of the largest student-run career fairs in the country -- brought in approximately 275 employers in 2015, and we are a key recruiting school for three dozen major corporations and government agencies.
It is essential that engineers, regardless of specialty, be well versed in mathematics, the physical sciences and the engineering sciences so that they can adapt readily to meet the profession's ever-changing demands. But professional training is not enough. Engineers need to have imagination and insight. They must understand the history and traditions of the society in which they live. They also must be familiar with the social sciences and humanities.
Engineers also must be able to communicate effectively with higher management and the general public. All departments within the college are implementing programs to ensure that every graduate is able to effectively use a variety of spoken, visual and written communication strategies, which are necessary for success as a student, for employment, and for life as a responsible citizen. Additional emphasis is being placed in freshmen engineering classes to emphasize the importance of communications in engineering analysis and design.
Engineers who are well educated, not just well trained, will be better equipped to develop scientific knowledge into useful technology.
In U.S. News & World Report's "America's Best Colleges 2016" survey, released in September 2015, the College of Engineering's undergraduate program ranked 15th among all undergraduate engineering programs that also offer the Ph.D., and eighth among public universities. The Department of Biomedical Engineering and Mechanics ranked 4th, the Department of Engineering Science and Mechanics ranked 5th, and the Grado Department of Industrial and Systems Engineering ranked 5th. Other notable department rankings are: the Charles E. Via Jr. Department of Civil and Environmental Engineering ranked ninth in civil engineering and 11th in environmental engineering; the Department of Biological Systems Engineering, 6th, the Bradley Department of Electrical and Computer Engineering, 14th; the Department of Mechanical Engineering, 15th; and the Department of Aerospace and Ocean Engineering, 15th.
Goodwin Hall, our Signature Engineering Building, houses scores of sensors that currently make it the most instrumented building in the world for vibrations, opened for classes in fall 2014. The roughly 153,000-gross square-foot facility serves as a leading center of engineering education in Virginia. Inside, a 15,000-pound Rolls-Royce Trent 1000 jet engine hangs 15 feet above the floor of the atrium, installed in the summer of 2012 by a team of engineers. The engine acts as an art centerpiece of the structure, and as a learning tool for our students for years to come. Other highlights: A robotics lab with glass walls that allow visitors and passersby to see students at work, and a 3-D printer open to any student's use, and located in the atrium of the building. The building was named after alum Bill Goodwin and his wife, Alice, in fall 2014. The Goodwins donated $25 million to the construction of the building, a university record for a personal donation. Goodwin graduated with a bachelor's degree in 1962. More information, photos of the first day of classes inside the new building, and a full time lapse of construction, from beginning to opening, visit: www.eng.vt.edu/goodwinhall.
The College of Engineering-led Institute for Critical Technology and Applied Science (ICTAS) is now housed in the Hugh and Ethel Kelly Building on campus, dedicated in the fall semester of 2013. Ethel Kelly's estate provided $5 million to help cover the cost of the most recent of three buildings built for the institute. That building opened in 2011 and is on Washington Street. What is now Kelly Hall opened in 2009 and is on Stanger Street. Another $1 million from the estate will support the new ICTAS Hugh and Ethel Kelly Lecture Series. Hugh Kelly, who died in 1989, earned his bachelor's and master's degrees of electrical engineering in 1937 and in 1938, worked at AT&T's Bell Laboratories, and played important roles in groundbreaking projects, including the 1962 launch of the Telstar communications satellite, the first private venture in space. Ethel Kelly, who died in 2012, generously supported Virginia Tech's College of Engineering as a way of honoring her husband's legacy. Hugh and Ethel Kelly were early members of the Committee of 100. They later joined the Ut Prosim and the Legacy Societies. Hugh was a member of the College of Engineering's Academy of Engineering Excellence.
In the summer of 2013, the State Council of Higher Education for Virginia (SCHEV) approved Virginia Tech's request to award masters and doctoral degrees in nuclear engineering.
In the spring of 2013 the Virginia Tech College of Engineering and College of Science jointly dedicated the inVenTs Laboratory's Studio I on the second floor of Lee Hall. The inVenTs Residential Community provides an interdisciplinary living-learning space for students from engineering, science, and other disciplines to interact and together explore their ability to envision, create, and transform innovative ideas and – in the words of Virginia Tech's tagline – Invent the Future. Approximately 1,270 students have used the facility since its fall 2012 soft opening. The inVenTs community includes students from four university groups, the Curie Learning Community and the Da Vinci Biological and Life Sciences Community, both in the College of Science, and the Galileo and Hypatia learning communities within the College of Engineering. The retention rate for the students enrolled in the inVenTs program is almost 100 percent.
In 2014 at Randolph Hall – in space occupied by classes and labs now at Goodwin Hall, the Frith Freshman Design Laboratory (Frith Lab) opened as a space designed to support the retention and development of young engineers through hands-on learning, peer mentoring, and authentic problem-solving. Part collaboration and innovation space, part fabrication and prototyping space, and part learning laboratory, the Frith Lab enables first-year engineering students to learn by dissecting, designing, making, and analyzing engineering products. It features a tensile/compression materials testing machine, 3-D printers, laser engraver, CNC router, and drill press, along with various hand tools, housed in toolboxes available for checkout.
At the Virginia Tech Corporate Research Campus, a building dedicated to propulsion research also opened in spring, 2014. The Virginia Tech Board of Visitors giving authorized the $3.5 million structure in fall 2012. An Aerobiology Building in support of an agriculture/life science and engineering is planned for Kentland Farm, located off campus and heading roughly due west on Prices Fork Road. The facility will facilitate the research of unmanned aerial vehicles used to combat the spread of crop and animal diseases.
The latest national survey, dated June 2015, released by the American Society for Engineering Education (ASEE) ranked the College of Engineering in the following categories for 2014. It was sixth for the number of tenured/tenure track faculty members, tenth for the number of tenured/tenure track women faculty, 17th for the number of African American faculty, 11th for the number of Asian faculty, and fifth for the number of Hispanic faculty. The data was based on a survey of 358 engineering schools. For total bachelor's degrees awarded by schools, Virginia Tech ranked 5th in the nation; for master's degrees awarded, 36th in the nation; and for doctoral degrees, 11th in the nation. In total enrollment, the College ranked 10th in the nation for undergraduates with 7,410 students (with 352 schools reporting numbers) and 20th in the nation for graduates students at 2,045 (with 261 schools reporting numbers).
Out-of-state students in engineering come primarily from Maryland, New Jersey, Pennsylvania, and New York. In the entering 2014-2015 freshman class, the average SAT score for the general engineering student was 1289, with the average math score at 685 and the average verbal score at 604. The average high school grade point average was 4.15 on a weighted 4.0 scale. Females comprise 23.4 percent of the entering 2015 class. Members of under-represented populations make up 11.9 percent of the freshmen class.
For fall, 2005, 4,800 prospective students applied for admission to the College of Engineering. By fall 2015, more than 9,000 applied, more than a 50 percent increase. Starting with fall 2010, the target size for the freshman engineering class was raised from 1200 to 1300, an 8 percent increase. In fall of 2015 the target was 1650, and some 1800 were admitted. In 2005 the entering engineering freshman class was 15.6 percent female, 2.1 percent African-American, 1.8 percent Hispanic. By comparison, in 2015 the entering engineering freshman class was 23.4 percent female. The number of entering females is a record, however due to the fact that the overall size of the class is also a record, the percentage of entering females is down just slightly from the 25.4 percent of the 2014 entering class. Members of the underrepresented population make up 11.9 percent (numbers no longer directly correlate because students now identify with more than one segment of the population.)
Virginia Tech was one of the first universities to formally consider the connection between engineering practice and environmental stewardship from an interdisciplinary perspective. The Green Engineering Program was created in 1995 and serves all departments within the College of Engineering.
This program combines environmentally conscious attitudes, values and principles with science, technology and engineering practice, and focuses this interdisciplinary approach toward improving local and global environmental quality. Based on engineering fundamentals, green engineering analyzes the design of products, processes, and systems to minimize the life cycle environmental impacts, from the initial extraction of raw materials to the energy consumption and waste production during manufacturing to the ultimate disposal of materials that cannot be reused or recycled.
The Green Engineering Program works with students, faculty and the university administration to provide educational and research opportunities with regard to both the environmental impacts and the environmental solutions that can result from engineering practice.
A university-recognized minor allows students to pursue their interests in Green Engineering in addition to their primary degree(s) in the College of Engineering. To obtain this minor, students are required to take 18 credit hours in the minor area as follows: six (6) credits in the two core courses – Introduction to Green Engineering and Environmental Life Cycle Analysis; six (6) credits in interdisciplinary elective courses; and six (6) credits in disciplinary electives within the students' major. Detailed lists of the courses which meet the minor requirements can be found in the Green Engineering Web site at www.eng.vt.edu/green.
In August 2015, Marc Edwards, professor of civil and environmental engineering and his team of students and research scientists uncovered widespread lead-in-water contamination in Flint, Michigan. The team collected samples from locations across Flint and found extremely high levels of lead and other contaminants in the city's drinking water. In March 2016, the Virginia Tech team of students returned to Flint on spring break, working alongside citizen volunteers in Flint collecting water samples for another round of lead testing. Results from the second round of testing showed Flint water is still not safe to drink, but should be continued to be used, flushing lead from the system, allowing the system to heal. Edwards, a leading expert in safe drinking water and the deterioration of the water delivery infrastructure in America's largest cities, has worked to seek solutions to the crisis. He serves on Michigan Gov. Snyder's advisory group and has testified multiple times before Congress on the crisis. Edwards was named on Time's top 100 list of influential world leaders in April 2016.
The Hyperloop at Virginia Tech team, Vhyper, scored big in Texas with a fourth place finish and a Technical Excellence Award against more than 120 teams representing many of the top universities in the world. The Hyperloop competition pitted teams designing systems for the Hyperloop transportation system, a project initiated by SpaceX and Tesla founder Elon Musk. The Hyperloop is a high-speed transportation system using a near-vacuum tube to propel a passenger-carrying pod at speeds potentially in excess of 700 miles per hour. The Virginia Tech team's design incorporates magnets not only to levitate the pod, but also to provide braking power. The team will be one of more than 20 that move on to build a prototype to be tested at a 1.5 kilometer test track facility in California, summer 2016.
President Barack Obama announced the creation of the Next Generation Power Electronics Manufacturing Innovation Institute. North Carolina State University is leading this effort with a major engagement from Virginia Tech's Center for Power Electronic Systems (CPES). Over 25 other organizations will participate in this research effort on wide band-gap semiconductor power electronics. The research is funded at $140 million over five years, with half from the Department of Energy and half from the participating organizations. Members of the electrical and computer engineering department will work on this initiative. More can be found here: http://energy.gov/articles/factsheet-next-generation-power-electronics-manufacturing-innovation-institute.
The Department of Engineering Science and Mechanics (ESM) and the Department of Biomedical Engineering (a.k.a. the School of Biomedical Engineering and Science, SBES) merged in 2014, creating the Department of Bioengineering and Applied Mechanics (BEAM). Pamela Vandevord serves as the interim department head of Biomedical Engineering and Mechanics.
In May 2014, Virginia Tech opened the Virginia Tech-India ICTAS Innovation Center. Located in Swarnabhoomi, which is south of Chennai in Tamil Nadu, the new research center will initially focus on energy harvesting, with much of this research conducted through the mechanical engineering department.
Through its University Technology Centers (UTC), Rolls-Royce has built a network for research and graduate education with 24 universities around the world. Until spring of 2014, only one was located in the United States (Purdue). Building upon Virginia Tech's successful partnering on the Commonwealth Center for Aerospace Propulsions Systems (CCAPS) and the Commonwealth Center for Advanced Manufacturing (CCAM), Rolls-Royce awarded UTC standing for Virginia Tech and the University of Virginia in April of 2014.
Virginia Tech was handpicked to participate in a $30 million national effort sponsored by the National Collegiate Athletic Association and the U.S. Department of Defense to combat concussions among college athletes and active service military personnel. The initiative has been called the most comprehensive study of concussion and head impact exposure ever conducted, with 25,000 male and female NCAA student-athletes participating in the study. Virginia Tech is focusing on football, women's soccer, men's soccer, and women's lacrosse. Data collected from athletes will be used to help curb head injuries among U.S. Armed Forces personnel. The study was launched by the White House. Serving as principal investigator is Stefan Duma, head of the Department of Biomedical Engineering and Mechanics. Also during the past year, Duma and his research team released long-awaited ranking of hockey helmets in their ability to help protect a player's head from. The research – covered throughout North America – follows long-time work on football helmets, which Dum has focused on the youth, high school, college, and professional levels.
Five months after successfully demoing that an adult-sized robot can locate and put out fires aboard a U.S. Navy ship, student members of the combined Terrestrial Robotics Engineering and Controls Lab (TREC) and Extreme Environments, Robotics & Materials Laboratory (ExtReMe) labs within the College of Engineering are already working on improving the self-built humanoid that has wowed the Navy. The robot is named SAFFiR -- short for Shipboard Autonomous Firefighting Robot was fabricated in the Goodwin Hall lab. It stands 5 foot 10 inches tall and weighs about 140 pounds. In November 2014 aboard the decommissioned, World War II-era USS Shadwell, the robot walked down a hallway, took a hose in his hand, turned and located a burning fire via thermal imagining just a few yards away, and blasted the flames with water. SAFFIR is part of a new program by the U.S. Office of Navy Research to create new, high-tech tools for sailors to fight fires aboard ships where dangers are many fold. ONR already has spent $4.5 million on the Virginia Tech project and will increase funding as new, improved incarnations of the robot are built. SAFFiR will gain keener intelligence and visual recognition cues, and stronger more versatile legs, along with plating to protect him from heat, soot, and water. "It's not going to replace Navy firefighters, it's going to assist Navy firefighters," said TREC member Viktor Orekhov, who finished a doctorate in mechanical engineering in December. In 2015, SAFFiR wowed crowds at the worldwide DARPA Robotics Challenge in Los Angeles, California by walking roughly 200 feet untethered along a loose dirt path onto pavement.
MathWorks announced in July, 2014 that Virginia Tech took third place in the MathWorks Modeling Award as part of the EcoCAR 2 collegiate engineering competition. The award recognizes the team's use of MATLAB and Simulink for Model-Based Design during the three-year project-based learning competition where students were tasked with the real-world challenge of reengineering a 2013 Chevrolet Malibu by improving its fuel efficiency and reducing its emissions while retaining its performance and consumer appeal.
An aerospace and ocean engineering student team won First place in the NASA-sponsored University Aeronautics Engineering Design Challenge competition with its concept of a twin-fuselage unmanned aircraft fueled by liquid hydrogen. The winning concept was dubbed "Gobble Hawk" by the team. The competition is not meant to create aircraft that will be built and flown, but to spur design skills among college engineering students. Team members were Jordan Ambers, Bennett Coffey, Katie Hettmann, Kyle Johnson, Brian Petrosky, Tristan Pietrzak, Matt Schmit, Cory Reed, and Sarah Woodward.
For the 2015-2016 academic year, over two million dollars in scholarship funds were awarded to undergraduate students in the College of Engineering. Forty-nine entering freshmen received Pratt Scholarship awards and 13 returning students continued their Dean's Scholar award for fall semester 2015. In fall 2015 the College offered 9 new, and continued 13 Eleanor Davenport Leadership Scholarships. The largest sponsor of upper-class scholarships continues to be the Gilbert and Lucille Seay Scholarship Fund, which awards students demonstrating both merit and need.
The University Honors Program offers a unique challenge to students with extraordinary intellectual and creative abilities. The program is available to all engineering departments and includes the opportunity for enrollment in accelerated courses, enriched sections, and independent study.
A five-year Cooperative Education program for qualified students is available in all of the engineering curricula. After at least two qualifying semesters, students may alternate semesters of study on campus with work periods in industry. Participants are required to have a minimum of a 2.0 overall grade point average, and students must have earned a 2.0 in the semester prior to any work experience. Individual departments may impose higher GPA restrictions, including ones based on in-major GPA.
Approximately 10,061 students are enrolled in undergraduate and graduate engineering departments at Virginia Tech as of fall 2015. In the entering 2015-2016 freshman class, the average SAT score for the general engineering student was 1291 and the average high school grade point average was 4.12 on a weighted scale. The male to female ratio in the college is 3.2:1. Members of under-represented populations make up 30.1 percent of the freshmen class.
Of the 2014-2015 College of Engineering bachelor's degree graduates who were employed full-time, (the most recent year for which statistics are known), 73 percent were employed in a field related to their major. The average annual salary at the bachelor's level was $65,000.
All students admitted to the College of Engineering as freshmen or external transfers are placed in the Department of Engineering Education and are designated as General Engineering majors. Admission to a degree program is competitive, with departmental restrictions established each year by the college. Upon completion of a set of required freshman-level courses, and completion of 12 hours of A-F graded coursework at Virginia Tech, students with acceptable academic records are eligible for transfer into one of the college's 14 degree programs.
Students wishing to transfer into an engineering program or change majors from another college or degree program within the university must meet current standards set by the college for each engineering program. All major changes are processed by the Engineering Education department.
The college has a guaranteed admission agreement with the Virginia Community College System. VCCS students who complete the transferable Associate Degree in engineering with a minimum 3.2 overall grade-point-average are guaranteed admission to the College of Engineering as a General Engineering major. Not all Virginia Community Colleges offer engineering courses. The Associate Degree in engineering is offered at Blue Ridge, Central Virginia, Danville, Germanna, J. Sargeant Reynolds, John Tyler, Lord Fairfax, Mountain Empire, New River, Northern Virginia, Piedmont Virginia, Southwest Virginia, Thomas Nelson, Tidewater, Virginia Highlands, Virginia Western, Wytheville.
Engineering Technology credits are not accepted for transfer by the College of Engineering.
Minimum requirements for graduation include the attainment of at least a "C" (2.0 Grade Point Average) average, both overall and in-major. Some departments may have additional requirements or specifications concerning the acceptability of C- or lower grades for in-major courses. Students are expected to sustain progress towards completion of their degree requirements, consulting with their academic advisor regularly.
In addition to meeting university requirements, eligibility requirements for enrollment have been established by individual departments.
Entry into a degree-granting department requires that a student successfully complete all first year required courses, and at least 12 GPA hours at Virginia Tech. All degree-granting majors accept applicants on a space-available basis. The change of major requirements, policies, and dates can be located at: www.enge.vt.edu/undergraduate-changing-majors.html.
Degree requirements in the college range from 123 to 136 semester hours. Students should see their departmental advisors to determine the exact requirements of their degree. The 2.0 minimum GPA requirement for graduation also applies to all courses attempted in the student's departmental major; substituted non-departmental courses are not included. Where courses have substantial duplication, credit toward graduation will be given for one course only. Up to 2 credits in physical education may be used toward graduation as free elective credit.
The senior academic year must be completed in residence while enrolled in the major department in the College of Engineering.
Engineering curricula have uniform minimum requirements in the humanities and social sciences. The 18-credit minimum includes 6 credits of Freshman English, usually completed during the first year, and 12 credits of humanities and social science electives selected from Areas 2 and 3 (6 credits each) of the Curriculum for Liberal Education.
Although pass/fail courses may be authorized for those who maintain a GPA above 2.0, students should recognize future disadvantages when transferring to other departments or applying for admission to other professional or graduate colleges. Engineering students are expected to take all major department courses on a grade basis. Independent study and undergraduate research courses are available for those who maintain a GPA above 2.0 overall and in their departmental majors; some departments may require a higher GPA.
The College of Engineering will accept advanced ROTC credit as free elective credit towards graduation. Some departments in engineering may allow the use of selected ROTC courses to meet technical elective requirements. Consult specific departments in the College of Engineering for information.
Degree Requirements
The graduation requirements in effect at the time of graduation apply. When choosing the degree requirements information, always choose the year of your expected date of graduation. Requirements for graduation are outlined in university publications known as "Checksheets". The number of credit hours required for degree completion varies among curricula. Students must satisfactorily complete all requirements and university obligations for degree completion.
The university reserves the right to modify requirements in a degree program. However, the university will not alter degree requirements less than two years from the expected graduation year unless there is a transition plan for students already in the degree program.
Please visit the University Registrar website at www.registrar.vt.edu/graduation/checksheets/index.html for degree requirements.