Pamplin College of Business
---
Course Descriptions & Programs of Study
---
Dean: Robert T. Sumichrast
Associate Dean for Administration: Kay P. Hunnings
Associate Dean for Extended Campus: Parviz Ghandforoush
Associate Dean for Research and Faculty Affairs: Kent Nakamoto
Assistant Dean for Undergraduate Programs: Candice E. Clemenz
Web: www.pamplin.vt.edu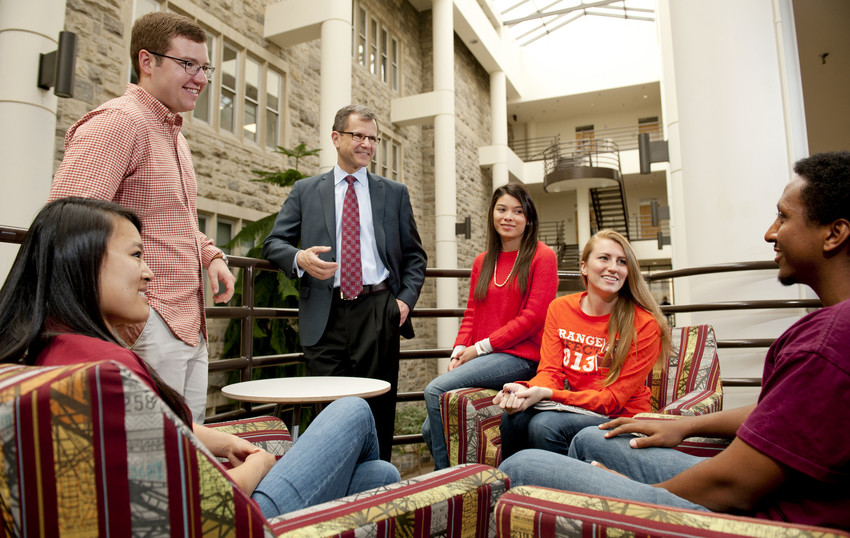 Range of Programs
The Pamplin College of Business offers majors in Accounting and Information Systems, Business Information Technology, Economics, Finance, Hospitality and Tourism Management, Management, and Marketing. Its on-campus enrollment is over 3,700 undergraduates and about 200 full-time graduate students in the MBA-Business Analytics, Master of Accounting and Information Systems, Master of Hospitality and Tourism Management, Master of Marketing and Ph.D. programs. The college also enrolls over 150 evening MBA and about 50 executive MBA students at Virginia Tech's National Capital Region campus in metropolitan Washington, D.C., and about 60 professional MBA students, who take classes that alternate between Roanoke and Richmond. The college also enrolls over 350 students in our online Master of Information Technology.
Competitive Advantages of Pamplin
The college offers five distinct competitive advantages:
start in the business school from day 1
graduate with a strong business foundation
get jobs (90% with a job in their field at graduation)
develop skills through hands-on experiences
connect with engaged alumni
Groundbreaking Research, Eminent Scholarship
Pamplin faculty members are tackling major issues in industry, finance, management practice, and information technology, to name a few areas. Their research has contributed to greater understanding of business issues, been cited in government hearings and court testimony, and played a role in policy making. Though sponsored research is not a central aspect of the research programs of business schools, several Pamplin faculty members have attracted national funding for their research, working as members of interdisciplinary teams. The college's departments are also regularly ranked among the nation's or world's top programs for scholarly productivity, based on article publication in the leading academic journals in their fields.
Centers
The college offers two centers devoted to helping students and corporations gain more knowledge. The Apex Systems Center for Innovation and Entrepreneurship helps students to learn, lead, and launch. Students will learn to be empowered with skills, tools, and information to create successful ventures. They will launch ventures through support and resources that will help them transform vision to reality. Finally, the center will lead the next generation of entrepreneurs and help them to have courage to build exceptional ventures. The Center For Business Intelligence and Analytics will assist with big data and harnessing analytic techniques to transform raw data into useful information for better business decisions.
Curriculum
The curriculum includes a broad liberal education and business core foundation of two years, followed by a college core in the fundamentals of business theory and concentration in the major. The college offers majors in:
Accounting and Information Systems
Business Information Technology
Economics
Finance
Hospitality and Tourism Management
Management
Marketing
Academic advising is an important aspect of each student's college career. We pair students with a professional academic advisor to assist from entry in Pamplin until graduation. All students are advised in Pamplin Undergraduate Programs, 1046 Pamplin Hall.
Undergraduates are strongly encouraged to participate in the out-of-class activities of the college, particularly the annual career fairs in September and January; the placement seminars; the ethics and leadership seminars; college international programs and study abroad; and the various events of the over 30 different student clubs in the college. Many of these programs provide critical insights into the careers for which students are preparing, as well as valuable opportunities for leadership.
Undergraduates are required to bring a computer to the university, as well as purchase a university and a Pamplin software bundle. The computer is used extensively in the curriculum. Purchase information and required configuration will be available each spring.
Facilities
Administrative and faculty offices for the college are located in Pamplin and Wallace Halls. Our facilities also include study rooms, computer labs, conference rooms, a behavioral laboratory, a kitchen laboratory, an atrium filled with furniture conducive to studying and group work, and a student organization office center.
Accreditation
The college is a member of The Association to Advance Collegiate Schools of Business, AACSB International. All programs are accredited by the AACSB. In addition, the ACIS program has an additional accreditation from AACSB: AACSB Accounting Accreditation. Additionally, the Finance department is accredited through the Certified Financial Planning Board of Standards, Inc.
A minimum of 125 semester hours is required for graduation in each curriculum.
The student must have an overall average GPA of 2.0 ("C") on all work attempted and in the courses in the major.
To ensure credit, a student desiring to take courses at another institution must secure approval by Undergraduate Programs of the Pamplin College before registering for the course at another institution. Completion of the "Authorization to Take Courses Elsewhere" must be turned into 1046 PAM and the student will be notified by email of the outcome of the review.
Acceptance of work completed at junior or community colleges is limited to those courses offered at the freshman-sophomore level at Virginia Tech. General university limitations on acceptability of transfer credit are shown elsewhere in this catalog.
Degree Requirements
The graduation requirements in effect at the time of graduation apply. When choosing the degree requirements information, always choose the year of your expected date of graduation. Requirements for graduation are referred to via university publications as "Checksheets". The number of credit hours required for degree completion varies among curricula. Students must satisfactorily complete all requirements and university obligations for degree completion.
The university reserves the right to modify requirements in a degree program. However, the university will not alter degree requirements less than two years from the expected graduation year unless there is a transition plan for students already in the degree program.
Please visit the University Registrar website at www.registrar.vt.edu/graduation/checksheets/index.html for degree requirements.
All students in business generally take the same required courses for the first two years. A major within the college may be selected during the first two years, but must be selected no later than the end of the semester in which the student attempts 72 semester hours. Because Economics is an unrestricted major within the College of Business, students in ECON who did not enter the university as BUS or ECON, must apply if they wish to change into ACIS, BIT, FIN, HTM, MGT, and MKTG. HTM is a restricted major. Students who did not enter the university as BUS or HTM must apply if they wish to change or add into another business major. The college accepts applications from students outside of Pamplin, but at VT, three times a year - May, August, and January. Students must have a GPA of 2.0 or better in the combined series in accounting and information systems, business information technology, economics, and mathematics with no grade less than C- in the nine designated courses in these departments and have an overall GPA of 2.0 or better for all course work. Pamplin enforces a strict policy of progress toward degree (Policy 91). The above requirements must be met by 72 credits (90 credits for transfer students) or the student will be dismissed from the college (not Virginia Tech) and not allowed to enroll in any business major. Some junior level courses may be taken at 45 credits, if the student has taken the required pre-requisite courses.
Business Core
All business students take the same business core, regardless of major. The core creates a strong foundation in all aspects of business. All core course require a C- or better or must be repeated. Students at the university may only attempt a course three times. The core courses are: ACIS 1504,2115, 2116; BIT 2405, 2406; ECON 2005, 2006; FIN 3054 or 3074, and 3104; MATH 1525,1526; MGT 3304, 4394; and MKTG 3104.
The 18-19 credit Applied Business Computing minor is open to students in all majors across the campus. This minor will help students gain better understanding of the web and systems design. It includes courses in Accounting and Information Systems, Business Information Technology, Computer Science, and Engineering. To apply students may obtain an application from the ACIS department. For more information, please contact the ACIS department at 540-231-6591.
Students with majors outside Pamplin may apply for a minor in business if they have competitive grades in required courses, a minimum 2.0 overall GPA on at least 24 semester hours at Virginia Tech, if they have completed Math 1525-1526 or its equivalent, and if they have at least a C- in any ACIS, BIT, ECON, FIN, MGT, or MKTG, course which they have taken. The minor consists of 27 semester hours of lower division course work which must be successfully completed before taking the 15 semester hours of upper division courses. In order to complete the minor in business, students must have a 2.0 GPA in the 15 semester hours of upper division courses. Applications are available in 1046 Pamplin.
The requirements to earn a minor in business can be found on its checksheet by visiting the University Registrar website at www.registrar.vt.edu/graduation/checksheets/index.html.
The Center for Leadership Studies coordinates leadership programs across campus including the Corps of Cadets Center for Leader Development, the Department of Management's Business Leadership Center, and other leadership activities organized by the Pamplin College of Business, Student Affairs, and Interdisciplinary Studies. Currently, the college administers two minors: the Virginia Tech Corps of Cadets minor in leadership studies and the Department of Management Business Leadership minor.
For more information on the 18-credit Corps of Cadets minor in leadership, see the material in the ROTC section of the catalog or contact the Center for Leader Development, (540) 231-7136.
The 18-credit Business Leadership minor is open to students in all majors who have at least a 2.50 overall GPA at Virginia Tech. It includes required courses in management theory and leadership practice, ethical leadership and corporate social responsibility, and advanced skills in leadership; elective courses from business, communication, humanities, and sociology; and a required leadership experiential activity. For additional information, contact Ms. Lorraine Borny, Business Leadership Center, (540) 231-2604.
The Entrepreneurship-New Venture Growth Minor is intended to focus on the knowledge and skills to create new ventures and lead their early growth. The objective is to provide students with the knowledge and skills needed to convert ideas into business successes, particularly in the context of engineering and science-based technology commercialization.
The curriculum consists of eighteen (18) credit hours of study, including six (6) hours of business restricted electives, and six (6) hours of restricted electives.
Sophomores, juniors, and seniors in the Pamplin College who have at least a 2.0 overall GPA are eligible for the International Business minor of 18 semester hours of course work; 3 years of a foreign language (may be satisfied from high school), and an approved international experience.
The requirements to earn a minor in international business can be found on its checksheet by visiting the University Registrar website at www.registrar.vt.edu/graduation/checksheets/index.html. Applications for this minor are available in 1046 Pamplin Hall.
Sales positions are critical to all firms and sales positions are expected to increase by as much as 25% over the next several years. This has created strong competition among employers to recruit the very best graduates. The Professional Selling minor is designed to prepare students to excel in this highly lucrative field. The focus of the program is to provide students with critical communication, interpersonal, and presentation skills key to helping organizations build long-term customer relationships. These skills will be valuable not only to those pursuing sales careers but also to anyone aspiring to managerial positions - positions that involve presentation of plans and ideas, negotiations, and persuasion. This minor requires 6 specified courses to be completed with at least a 2.0 GPA overall and within the courses.
The college participates in the Cooperative Education Program in which qualified students may alternate semesters of study in the major with semesters of professional employment. Additional information pertaining to the program is included in the "Academics" section of this catalog.
Graduate instruction and opportunities for research are offered to students who have bachelor's degrees from accredited colleges. The college offers the Master's of Business Administration programs, and master's and Ph.D. degrees in all departments. All graduate students are required to attain a satisfactory score on the Graduate Management Admission Test (GMAT).
The four-year course leading to the B.S. degree in any major in the college provides a sound preparation for law school, and pre-law advisors from the Pamplin faculty are provided.
Economics is offered as a major through both the Pamplin College of Business and the College of Science. Both an honors degree and a minor in economics are also offered in the College of Science. Students in either college take the same economics courses, but the college core requirements differ.
For economics faculty and course descriptions, visit Economics in the College of Science.
1984: SPECIAL STUDY
Variable credit course.
2984: SPECIAL STUDY
Variable credit course.
3974: INDEPENDENT STUDY
Variable credit course.